About Us
Arizona Multihousing Charitable Foundation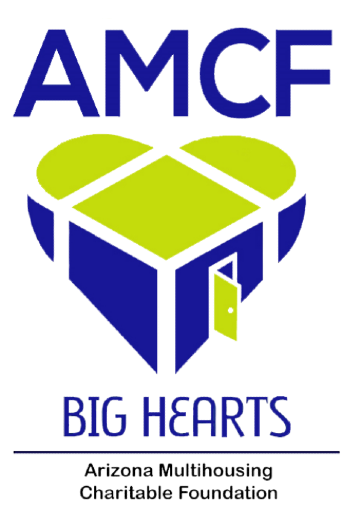 The Arizona Multihousing Charitable Foundation (AMCF) is the philanthropic arm of the Arizona Multihousing Association (AMA)! The AMA believes in giving back to the community through charities that impact our members and their residents. Since 2005, the AMCF Big Hearts Committee and dedicated members of the AMA have raised over $1.4M to support local and statewide charities. In 2022, the funds raised through AMCF Big Hearts will go to our beneficiaries listed below.
Members of the AMCF Big Hearts Committee host annual fundraising events such as the Bowl-A-Thon, Car Raffle, Silent Auction, Dollar-A-Door campaign and more. We believe by working together as an industry, we can and will make a difference. View 2022 Fundraisers.
AMCF Mission: Enhance the lives of community members through the cultivation of opportunities and financial resources that address homelessness, support education, and inspire hope in our neighborhoods, while providing a philantrhropic network for our AMA members to improve their own lives while positively impacting Arizona.

▶ How To Give
▶ Upcoming Fundraisers
---
▶ Beneficiaries: Who We Support
---
For questions regarding AMCF please contact (Phoenix) Jenica Hickey, jhickey@azmultihousing.org, or (Tucson) Linda Morales, lmorales@azmultihousing.org.