Back to Events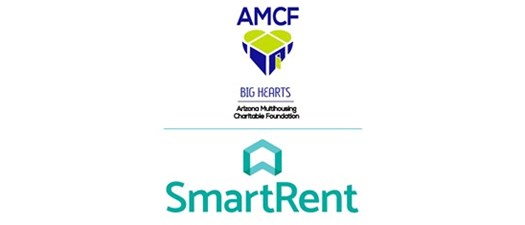 Big Hearts Phoenix Charity Week Presented by SmartRent
AMCF PHX Big Hearts Charity Week Competition is Back!
Monday, October 17, 2022
to Sunday, October 23, 2022
Event Details
The Arizona Multihousing Charitable Foundation (AMCF) is excited to announce our second annual AMCF Big Hearts Charity Week Competition Presented by SmartRent! AMCF is challenging all members of AMA to commit to a week of fundraising, October 17-23, in support of AMCF's charitable partners in Phoenix:
The Resident Relief Foundation
UMOM New Day Centers
SARRC
The Julie Hurst & Steve Peters Education Fund
Will our defending champs, Mark-Taylor Residential & Burns Pest Elimination be able to hold onto their respective titles or will you be the one to knock them out of their top spots?

Registering is easy and FREE! Click on the registration button above when available to sign up as an individual, property, company or corporate office. How you fundraise is up to you! Simply tell us what type of event(s)/activity(ies) you'd like to hold and AMA will create a personal fundraising link, flyer and QR code for you to share with you residents, customers and/or employees.

Fundraising Event & Activity Ideas:
| | |
| --- | --- |
| Pancake Breakfast | $1 A Door |
| Dunk Tank | Car Wash |
| Pet Runway Show | Concierge Services Raffle |
| Purchase a Paper Heart With Your Name to Hang | Guess the Number of Jelly Beans |
| Virtual Trivia | Virtual Race |
| Yappy Hour | Change for Charity |
| BINGO NIGHT | Bean Bag Tournament |
| Denim for a Day/Week | Free Month of Rent Raffle |
| Donated "Fun" Classes: Cooking, Dance, Art | Local Business Donations Raffle |
| Community Garage Sale | Raffle Passes to Parks |
| Raffle to Throw a Pie in the Manager's Face | *No 50/50 Raffles Please |
The top performing property management and industry partner member companies will win a Grand Prize Traveling Championship Belt, showcasing their commitment to charitable giving.
1st, 2nd and 3rd place placing properties will receive a lunch sponsored by the AMCF Committee.
Please visit the AMCF webpage to learn more about how and why we are giving back.
Together as an industry, we can and will make a difference. Are you up to the challenge???
Please feel free to share our Charity Week flyer with your teams: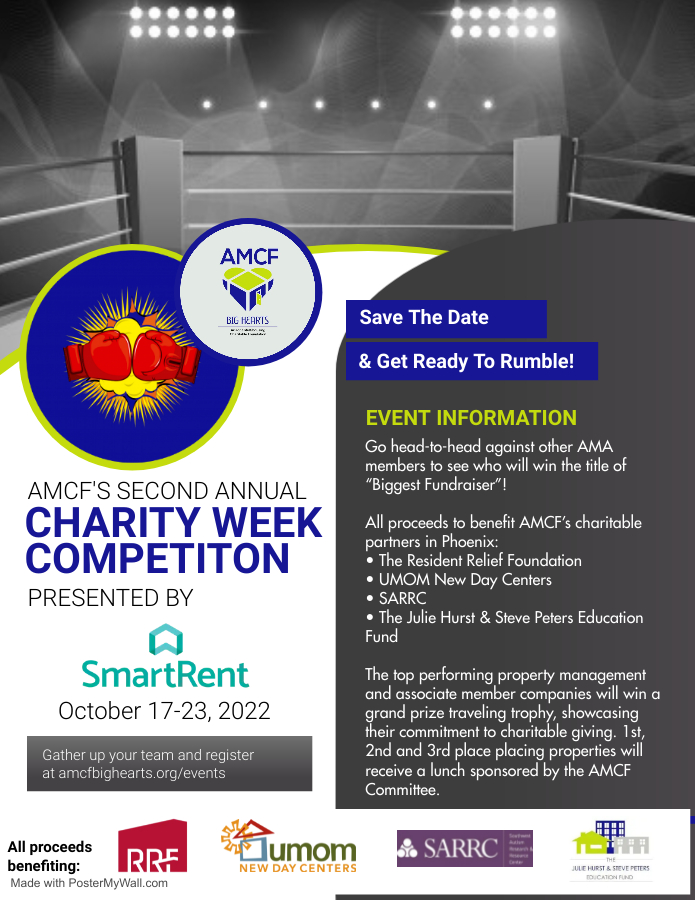 For More Information: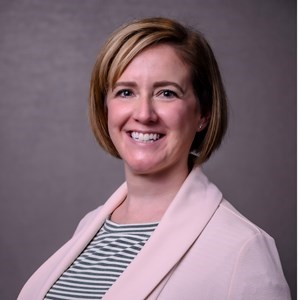 Jenica Hickey
Special Programs Manager
Arizona Multihousing Association
(602)296-6214